Day 10: Dec 21st - A Christmas Story
Today's Featured Community Restaurant: The Hong Kong


Specializing in Szechuan and Chinese Cuisine. Local family-owned Restaurant has been serving in Mount Vernon for more than 30 years. Voted Best of Skagit County for 13 Years Straight. Takeout only, order online here. (360) 424-7776
Today's Featured Community Business: Enchanting Events


Enchanting Events has provided authentic character entertainment for parties, events, and festivals since 2012. What began as a passion-project by a business-savvy mom of two, has become a reputable entertainment company employing over 30 people and delighting audiences of all ages. The mission of Enchanting Events is to provide the highest quality and most realistic character entertainment in Western Washington at celebrations and special events, while also giving back to the community through charitable outreach.
Today's Featured Community Non-Profit: Mount Vernon Rotary Club


Mount Vernon Rotary was established in 1921 and is one of the oldest Rotary Clubs in Washington state. The club currently has a membership of 50 men and women that are actively involved in meeting the needs of Skagit Community and Rotary Service projects around the world. Our mission is Literacy, Learning, Leadership, and Service.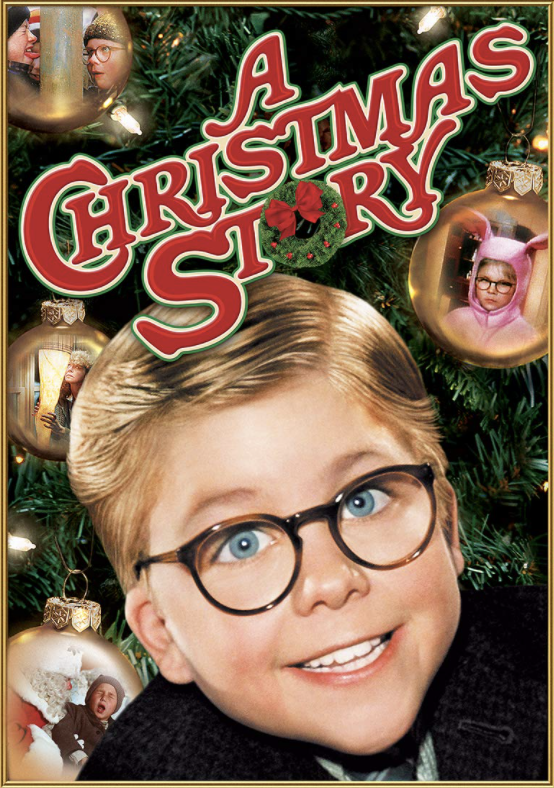 Today's featured film is A Christmas Story starring Peter Billingsley, Melinda Dillon, Darren McGavin. Christmas is approaching and 9 year-old Ralphie wants only one thing: a Red Ryder Range 200 Shot BB gun. When he mentions it at the dinner table, his mother's immediate reaction is that he'll shoot his eye out. He then decides on a perfect theme for his teacher but her reaction is like his. He fantasizes about what it would be like to be Red Ryder and catch the bad guys. When the big day arrives he gets lots of presents under the tree including a lovely gift from his aunt that his mother just adores. But what about the BB gun?
Not sure where to watch? Here are a few ways to stream: YouTube and Amazon Prime. 
Did you know?

For the scene in which Flick's tongue sticks to the flagpole, a hidden suction tube was used to safely create the illusion that his tongue had frozen to the metal.

According to Peter Billingsley, not many major studios were interested in a story about a little boy in the 1940s who wanted a BB gun for Christmas. Billingsley said the studio agreed to make this film if Bob Clark agreed to make a horror film.

Darren McGavin ad-libbed the profane rants while fighting with the furnace. He said he speaks gibberish the entire time because it was almost impossible for him to ad-lib angry words without actual profanity. He did this in order to ensure a "PG" rating.

When they filmed the scene in the Chinese restaurant, Melinda Dillon was purposely given the wrong script, and everyone was in on it. She had no idea that the duck would still have its head and the first time she saw it was when they were filming. Her reactions during the entire sequence were not scripted, which is what director Bob Clark was going for.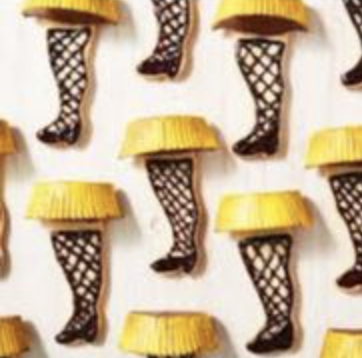 Leg Lamp Sugar Cookies
1 (16.5-oz.) log refrigerated sugar cookie dough
1/4 cup all-purpose flour
3 (0.67-oz.) tubes black gel icing
18 Reese's Big Cups
1/4 cups yellow decorating icing
3 tbsp. peanut butter

Instructions
Preheat oven to 350°. In a large mixing bowl, combine cookie dough and flour. Roll out to 1/8" thick, then use a paring knife to draw the shape of a heeled leg for each cookie (or trace them, using the stencil we created in the PDF above). Bake until cookies are lightly golden around the edges, about 10 minutes. Set aside to cool.
Use the black cookie icing to draw a heel on the leg lamp, as well as a crosshatch design to mimic the fishnet stockings. Place in the refrigerator to harden, about 10 minutes.
Remove Reese's cups from wrappers, slice each in half length-wise. Dab a little peanut butter on the cut side of each Reese's cup, then gently press it against the top of the sugar cookie.
In a small bowl, mix yellow icing with 2 teaspoons water. Using a small silicone spatula or pastry brush, coat the Reese's cup with icing to fill in crevices on the peanut butter cup to mimic a yellow lampshade. Place in the refrigerator to harden, about 10 minutes.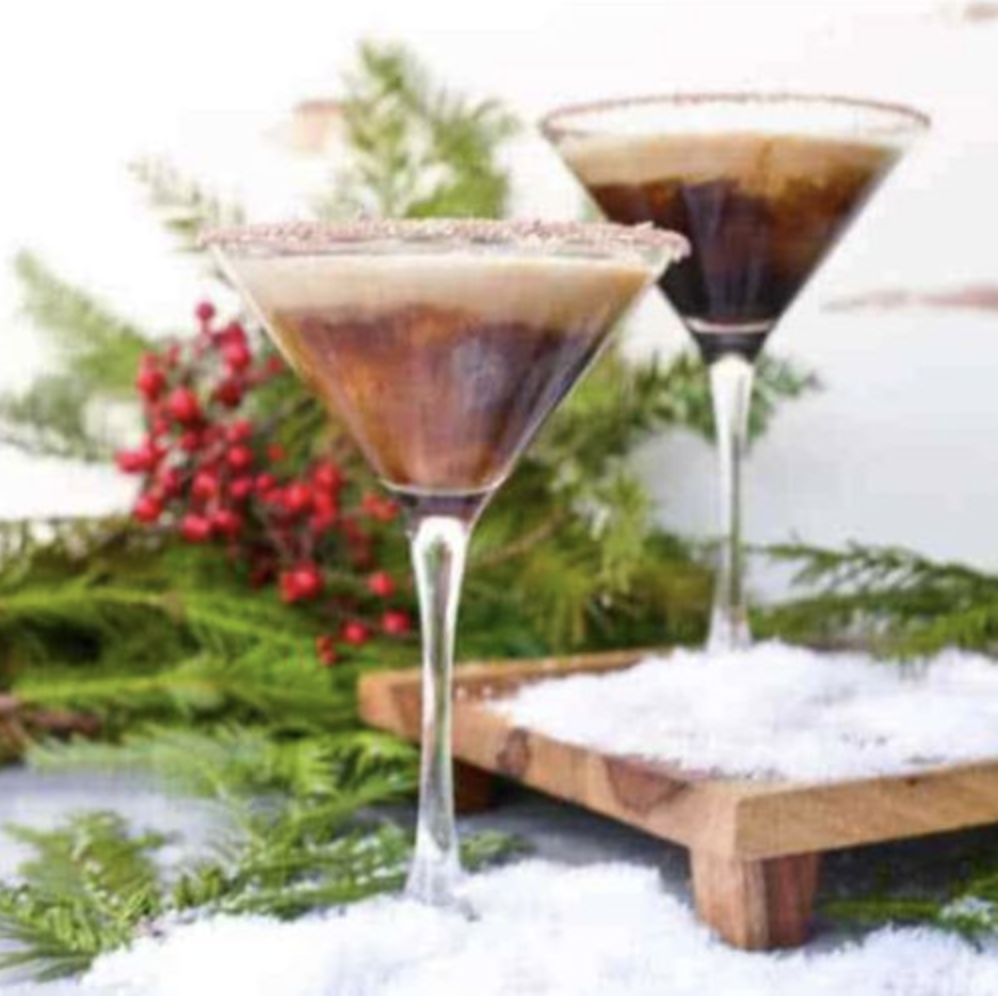 Ovaltine Martini
1 part Kahlua
2 parts Vodka
1 part heavy cream
1 pinch Ovaltine plus more for garnish

Instructions
Moisten the rim of a martini glass with honey. Place some Ovaltine on a plate or in a glass rimmer. Turn the glass upside down and turn in the Ovaltine, rimming the glass.
Combine the Kahlua and vodka in the glass.
Carefully pour the cream on top. If you'd like to try and layer the cream, pour it over the back of a spoon.
Add a large pinch of Ovaltine and enjoy!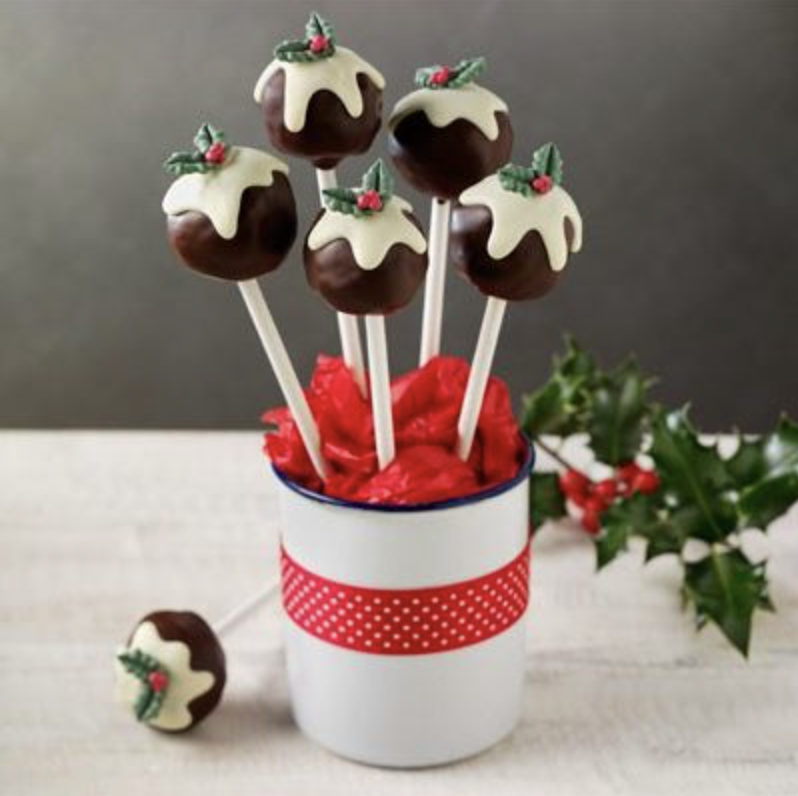 Ohh Fuuudge Cake Pops
2 (18.25 ounce) packages devil's food cake mix
2 cups water
⅔ cup vegetable oil 
6 eggs
1 (6 ounce) bag semisweet chocolate chips 
1 (16 ounce) package prepared chocolate frosting 
2 (14 ounce) bags chocolate confectioners' coating
50 lollipop sticks
2 (14 ounce) bags white confectioners' coating 
1 (1.75 ounce) package multicolored candy sprinkles (Optional)
½ cup chopped nuts (Optional)
Styrofoam blocks

Instructions:
Preheat oven to 350 degrees F (175 degrees C). Grease a 9x13-inch baking pan.
Blend cake mix, water, oil, and eggs in a large bowl at low speed with an electric mixer until moistened. Beat at medium speed for 2 minutes. Pour batter into the prepared pan.
Bake in the preheated oven until a toothpick inserted into the center comes out clean, about 26 minutes. Cool in pan for 10 minutes. Crumble cake while still warm into a large bowl and stir in chocolate chips. Once chocolate chips have melted, stir in frosting. Mix by hand until the mixture has a dough-like consistency.
Scoop cake mixture with a melon baller or small scoop, round each scoop into a ball using your hands, and place on a baking sheet. Freeze cake balls for 10 minutes.
Melt about 1/4 the chocolate coating in a microwave-safe glass or ceramic bowl in 30-second intervals, stirring after each melting, for 1 to 3 minutes.
Remove cake balls from freezer. Dip each stick into melted chocolate and insert all the way through cake balls. The melted chocolate will harden and hold cake on the stick. Return to the freezer for 10 minutes.
Melt remaining chocolate coating and white chocolate coating in separate microwave-safe bowls in 30-second intervals, stirring after each melting, for 1 to 3 minutes. Remove cake pops from freezer; dip each cake pop in either melted white chocolate or chocolate. Spoon sprinkles or chopped nuts over cake pops before the coating hardens. Stick each cake pop upright into the styrofoam blocks until candy shell hardens. Refrigerate cake pops until ready to serve.