Day 12: Dec 23rd - The Santa Clause
HOTEL MANAGEMENT SOLUTIONS MADE EASY. Hotel Services Group is the complete hotel management solution that promises 'peace of mind' in hotel ownership and investment. We ensure that each of our hotels are managed professionally, courteously, and with organizational efficiency. Our guests can always depend on excellent customer service coupled with impeccable rooms and amenities. This is our promise – not only our business – it's what we love to do every day. Check out our website to make your "Staycation" reservation at one of our 9 amazing properties. 
Today's Featured Community Restaurant: Temperate Habits


As Pharmacists, we are expected to be of "good moral character and temperate habits." For the past 10 years as Pharmacists, we have been just that. With our transition into brewing, we will not compromise our values no matter the industry. We promise that your experience at our brewpub will always be welcoming and inclusive. Our hope is that you feel as comfortable in our brewpub as you do at home. We welcome all levels of beer drinkers, and invite you to experience the true magic of the microbrewery movement. We are Temperate Habits Brewing Company. Open for outdoor dining and to-go orders, 360-399-7740.
One Community One Family was founded in November 2019 by six Skagit Valley residents that have all been closely touched by cancer.  Our mission is to help local cancer patients by providing a grant that can be used for everyday living expenses. Donations can be made on our website, or mailed to OCOF, PO Box 1163, Burlington WA. 98233.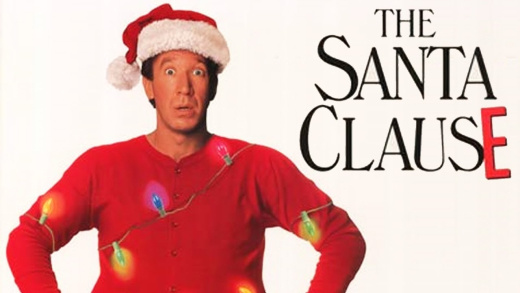 Today's featured film is The Santa Clause starring Tim Allen. Divorcé Scott Calvin is disgusted to learn that his ex and her husband have tried - and failed - to break it easy to their 6-year-old son Charlie that Santa isn't real. On Christmas Eve, Scott reads The Night Before Christmas - then receives an unexpected visitor on his roof. When he's startled by Scott's calling out and falls, the Santa impersonator disappears, leaving only an 8-reindeer sleigh and a suit with instructions to put it on if he's involved in an accident. Scott does, and is transported around the town dropping gifts through chimneys until he's taken to the North Pole and informed by a group, who claim they're elves, that he is now Santa. Charlie is proud of his dad's new job, though Scott's convinced it's a dream. Until his hair turns white, his beard refuses to stay shaved, he gains weight inexplicably, even for his sudden love of junk food - Now he's accepted it, there's just one problem: how to keep it secret from his disbelieving family?
Not sure where to watch? Here's where to stream: Disney+, YouTube, and Amazon Prime.
Did you know?

Tim Allen has a criminal record, and Disney has a no hiring of ex-cons policy. An exception was made in this case.

During his tour of the workshop, Scott Calvin tries out a tool belt then shakes his head as if to indicate that tools aren't for him. This is a reference to Tim Allen's then-hit TV show, Home Improvement (1991) where his character's life (Tim "The Tool Man" Taylor) revolved around tools.

HIDDEN MICKEY: When Scott and Charlie are leaving the North Pole in the sleigh and pass by the moon, the moon has a distinct Mickey Mouse logo on it.

Elves are scattered throughout the movie in Scott and Charlie's world. The little blonde girl walking away from the window at the opening of the movie, the little boy putting his jacket on and wearing a red scarf as Scott and Charlie are led to their seat in Denny's, the girl walking behind the bench when Scott has kids lined up at Charlie's soccer game, the girl in the purple coat who walks by Scott and Charlie in the park when Scott wants Charlie to stop talking about the Santa Claus, and the attentive little boy in the blue turtleneck behind Charlie's desk during show and tell are all elves. They show up as a group at the end of the movie when Scott flies away from the Miller house, and they are the kids who run and skip off.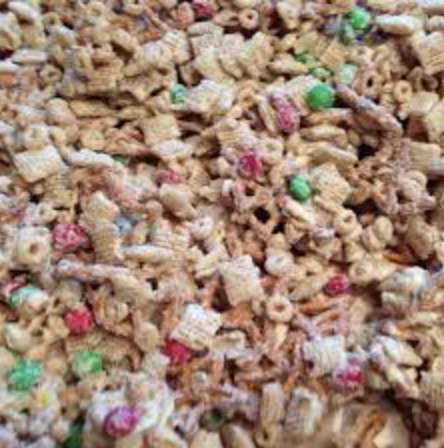 Reindeer Food
1 (20 ounce) package miniature pretzels
1 (17.5 ounce) package crispy corn cereal squares (such as Corn Chex®)
1 (16 ounce) jar salted dry-roasted peanuts
1 (14 ounce) package candy-coated milk chocolate pieces (such as M&M's®)
24 ounces white chocolate, chopped

Instructions
Cover a large area of counter space with waxed paper and tape it down.
Mix pretzels, corn cereal squares, peanuts, and candy-coated milk chocolate pieces together in a large bowl.
Melt white chocolate in the top of a double boiler over simmering water, stirring frequently and scraping down the sides with a rubber spatula to avoid scorching. Pour melted white chocolate over pretzel mixture; stir to evenly coat. Quickly transfer mixture to the prepared waxed paper and spread in a thin layer; cool completely. Break into pieces and store in an airtight container.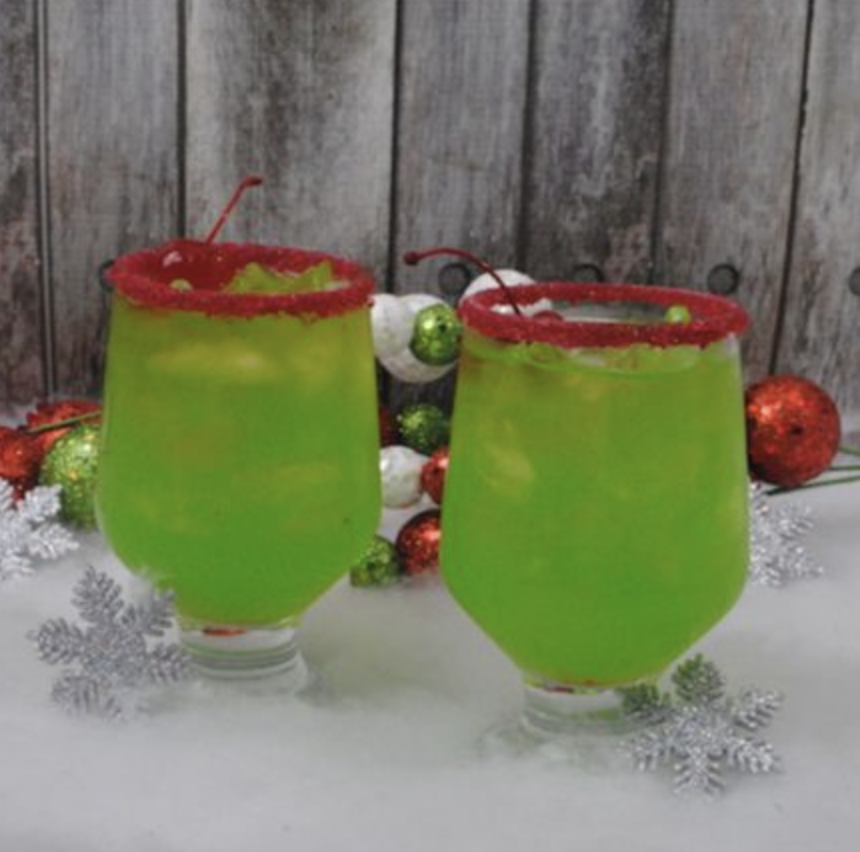 The Santa Clause Cocktail
1 oz vodka
1 oz coconut rum
1 oz melon liqueur
1/4 oz blue curacao
Pineapple juice
Sprite
Red Sanding Sugar
Simple Syrup

Instructions
Add simple syrup to a plate, set to the side.
Add red sanding sugar to a plate.
Then roll glasses in the red sanding sugar.
Set glasses aside.
Take all the ingredients in a bar shaker and shake to combine.
Pour into your glasses and enjoy!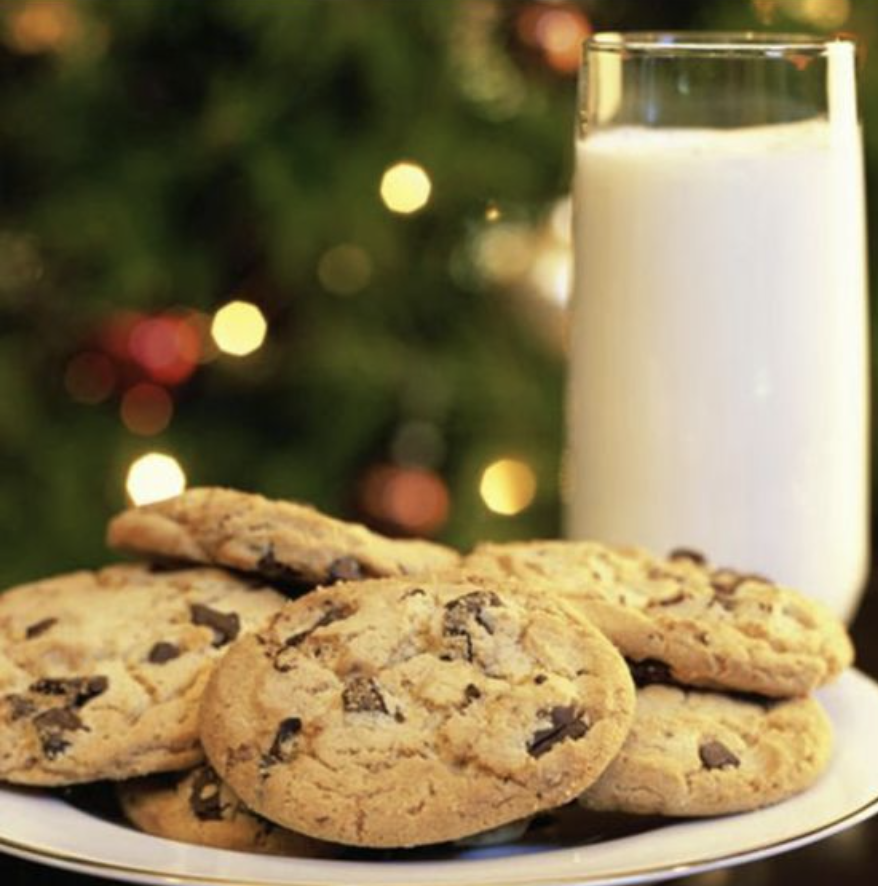 Chocolate Chip Cookies
1 cup butter, softened 
1 cup white sugar
1 cup packed brown sugar
2 eggs
2 teaspoons vanilla extract
1 teaspoon baking soda
2 teaspoons hot water
½ teaspoon salt
3 cups all-purpose flour
2 cups semisweet chocolate chips

Instructions
Preheat oven to 350 degrees F.
Cream together the butter, white sugar, and brown sugar until smooth. Beat in the eggs one at a time, then stir in the vanilla. Dissolve baking soda in hot water. Add to batter along with salt. Stir in flour, chocolate chips, and nuts. Drop by large spoonfuls onto ungreased pans.
Bake for about 10 minutes in the preheated oven, or until edges are nicely browned.