Day 4: Dec 15th - Miracle on 34th Street
Today's Featured Community Business
Currently open for to go or dine in on the heated patio Friday - Tuesday: 1-7pm.
Today's Featured Community Non-Profit
The mission of Friendship House is to reflect the heart of God by feeding, sheltering, clothing, and healing... to empower those in need.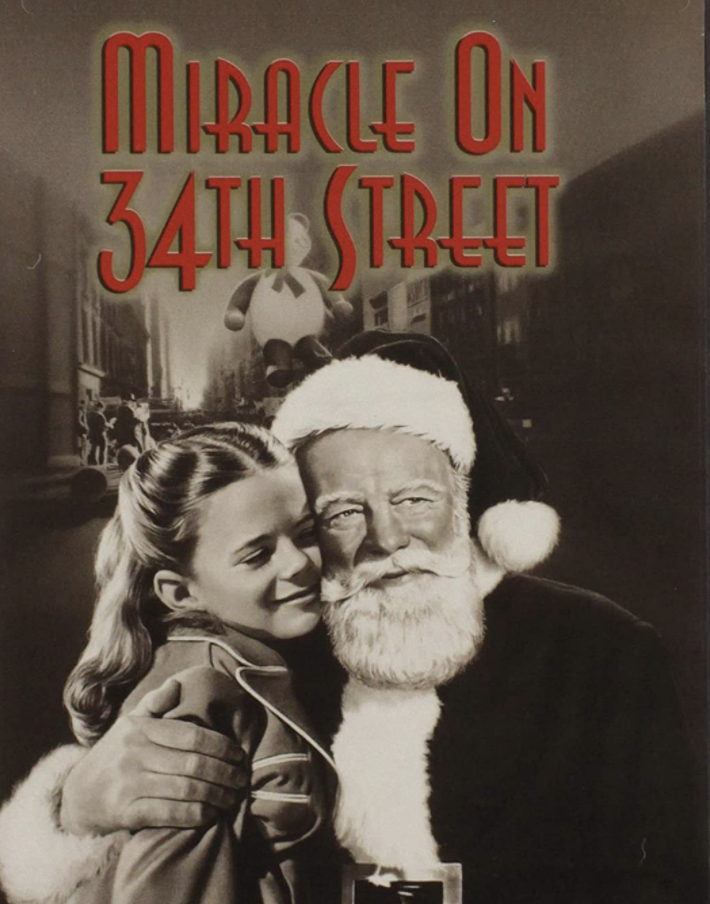 Today's featured film is Maracle on 34th street starring Edmund Gwenn, Maureen O'Hara, and John Payne. When a nice old man who claims to be Santa Claus is institutionalized as insane, a young lawyer decides to defend him by arguing in court that he is the real thing.
Not sure where to watch? Here are a few ways to stream: Disney+, YouTube, and Amazon Prime.
Did you know?

In the untranslated dialogue with the Dutch girl, Kris asks her what she wants for Christmas. She says she wants nothing, telling him she got her gift by being adopted by her new mother.

This film won three Oscars: When Edmund Gwenn accepted his Best Supporting Actor Oscar, he said, "Now I know there's a Santa Claus."

The scenes at Macy's were shot on location at the main store on 34th Street itself. Shooting was complicated by the fact that the crew's power needs exceeded the store's electricity capacity and required additional power sources arranged in the basement.

Unusually, there were two Christmas films nominated for Best Film at the 1947 Academy Awards--this one and Henry Koster's The Bishop's Wife (1947). They join It's a Wonderful Life (1946) the year before as only three Christmas ones to be nominated for that.
Full Table Family Meal
Not only does Miracle on 34th Street celebrate Saint Nick and the true magic of the holidays but it also celebrates the food and fun that take place in the days leading up to Christmas morning. Enjoy dinner and a movie with a full table of food and drinks inspired by today's movie!
Appetizer: Dutch Oven Bread
6 cups all purpose flour
1 tbsp salt
1 tbsp Italian seasoning
1 tbsp garlic powder
2 tsp granulated sugar
2 tsp active dry yeast
3 cups warm water

Instructions:
Prepare the Dough:
In a large bowl, combine all of the ingredients except the warm water. Stir to combine. Add the warm water and mix together until a dough forms. The dough will be sticky. Cover the bowl loosely with a clean dish towel and allow to rise for at least 12 hours and no more than 24 hours.
Baking the Bread:
When you are ready to bake the bread, place your Dutch oven pot and lid in the oven and pre-heat the pot and the oven at the same time to 450 degrees.
While the oven is heating, sprinkle some flour on a board or on your clean countertop and spill out the dough onto the flour. Sprinkle the top of the dough ball with a little bit of flour as well to keep your hands from sticking to it. The dough will be very soft so do your best to form it into a circle.
Once the pot and oven are heated, remove the pot from the oven and gently place the dough into the heated pot. (It doesn't need to be perfect as the dough will take the shape of the pot).
Using oven mitts, place the lid back on the pot and put the pot back into the oven. Cook for 30 minutes covered.
After the 30 minutes, uncover the pot, and cook for another 15 minutes until the top is golden and crispy. Let cool until it's safe to touch before slicing.

Entree: Roast Pork Tenderloin with Dried Fruits
1 cup dried cherries
1 cup dried figs, cut in half
1 cup dried apricots, cut in half
2-1/2 cups merlot or cabernet sauvignon red wine
3 sticks cinnamon
2-1/2 tablespoons fresh rosemary, finely chopped
1-1/2  tablespoons parsley, finely chopped
1-1/2 teaspoon salt
1 teaspoon black pepper
3 cloves garlic, minced
2 tablespoons extra-virgin olive oil
3-1/2- to 4-pound boneless pork loin roast

Instructions:
Preheat oven to 400 F.
In small saucepan, place dried fruit, wine, and cinnamon sticks, and bring to boil.
Remove from heat and allow to steep for 20–30 minutes.
Strain fruit, reserving liquid.  Discard cinnamon sticks.
In small bowl, mix rosemary, parsley, salt, pepper, and garlic. 
Rub 2 tablespoons of mixture on inside of roast.
Layer with dried fruit and roll roast tightly into a log. Tie with butchers' twine to keep pork loin securely together.
Rub outside of roast with extra-virgin olive oil and remaining herb mixture.
Pour 1/2 cup of reserved wine liquid in bottom of roasting pan.
Place roast on V-rack set in roasting pan.
Roast pork loin for 20 minutes, then reduce oven temperature to 325 F.
Continue to roast until internal temperature reaches 155 degrees, about 40–50 minutes.
Remove from oven and loosely drape with aluminum foil.
Let meat rest for 10–15 minutes before carving.

Side Dish: Old-Fashioned Green Bean Casserole
For the crunchy onion topping
2 medium onions, thinly sliced
1/4 cup flour
2 tablespoons bread crumbs
1/4 teaspoon salt
1 tablespoon cooking oil
For the casserole
2 tablespoons salt
1-1/2 pounds of green beans, trimmed and cut in half
2 tablespoons butter
2 shallots, finely chopped
2 cloves garlic, minced
12 oz. mixed mushrooms (button, shiitake, and chanterelles), sliced
1 teaspoon salt
1/2 teaspoon pepper
2 tablespoons flour
1/2 cup cream
1 cup half-and-half

Instructions: 
Prepare the crunchy onion topping:
Preheat the oven to 475 degrees.
Combine the flour, bread crumbs, and salt together in a large bowl.
Toss onions into the flour mixture.
Brush a baking sheet with the cooking oil.
Spread the onions evenly out over the baking sheet.
Place the sheet pan of onions in the oven and bake.  After about 15 minutes, turn the onions over. Finish baking until done and golden brown approximately 30 minutes.
Remove from oven and set aside.
Prepare the casserole:
Lower the heat in the oven to 400 degrees F.
Bring a large pot of water to a boil.  Add 2 tablespoons of salt.
Add the beans and cook/blanch for about 5-6 minutes.
Immediately drain, and place the beans in a large water bath (a bowl of ice mixed with cold water).  This allows the beans to stop cooking.
Once cool, drain the water off of the beans and set aside.
Melt the butter in a large skillet over medium heat.
Add the shallots, garlic, mushrooms, and salt and pepper.
Cook, stirring occasionally until the mushrooms begin to lose some of their liquid (about 5 minutes).
Add 2 tablespoons flour to the mushroom mixture and stir well.
Cook for 2-3 minutes.  Add the cream and half-and-half and simmer.  Allow to simmer until the mixture thickens, about 5-10 minutes.
Pour beans into a 9" x 12" casserole dish.  Top mixture with the baked onions.
Place in oven and bake for about 12 minutes, or until bubbly.
Remove from oven and serve.

Dessert: Cranberry Pecan Fluff Salad
12 ounces fresh or frozen cranberries, thawed
1/2 cup granulated sugar
1 cup heavy cream
8 ounces crushed pineapple, drained
2 cups mini-marshmallows
1/3 cup pecans, roughly chopped

Instructions
In a medium-sized bowl, combine cranberries and sugar, tossing to coat cranberries with sugar.
Cover the bowl with plastic wrap and refrigerate for a few hours.
Pour cranberries into a food processor. Pulse a few times until coarsely chopped. Transfer cranberries to a large bowl and set aside.
In a large mixing bowl, using an electric hand mixer, beat heavy cream until stiff peaks form.
Add crushed pineapple, marshmallows, and pecans into the bowl of cranberries. Mix well to combine.
With a spatula, gently fold whipped cream into cranberry mixture.
Refrigerate until chilled and serve.

Beverage: Pumpkin Martinis
1 oz. heavy whipping cream
1 oz. spiced rum, like Captain Morgan
1/2 oz. Torani Pumpkin Spice Syrup
Dollop of Reddi Wip, optional
Dash of nutmeg and cinnamon
Crushed ice

Instructions:
Fill martini shaker with crushed ice.
Put all ingredients, except Reddi Wip, into shaker and get your shake on.
Pour into a chilled martini glass and top with a dollop of whipped cream.