Day 5: Dec 16th - How the Grinch Stole Christmas
Today's Featured Community Business: Wycoff Insurance
Wycoff Insurance is a locally owned insurance agency and has been doing business in Mount Vernon since 1972. We work hard to maintain a high level of service and are well respected within the insurance industry and within our local community. Our professional staff strives to offer insurance coverage and advice tailored to keeping the client's best interests at heart. If you're looking for insurance services in Mount Vernon or anywhere in Washington, know we will treat you with respect and offer you many different options for your insurance needs. Call or stop in today. We appreciate and look forward to the opportunity to work with you.
Today's Featured Community Restaurant: Calico Cupboard
Let us bake your traditional holiday goodies for you! We have outdoor seating available. La Conner offers waterfront outdoor deck seating overlooking the beautiful Swinomish Channel and Rainbow Bridge. Mount Vernon offers charming shaded outdoor seating. Enjoy the beautiful downtown Anacortes from our garden nook. To place holiday bakery orders call us at our Mount Vernon location (360) 336-3107 or our Anacortes location (360) 293-7315.
Today's Featured Community Non-Profit: Camp Korey
Camp Korey is named for Korey Rose, a vivacious teen who lost his battle with bone cancer at age eighteen. His father, Tim Rose, founded Camp Korey in 2005 with his family to honor Korey's memory and create a safe haven for other families dealing with childhood illness and serious medical conditions. Camp Korey is 100% free of charge and offers year-round programming for campers and their families.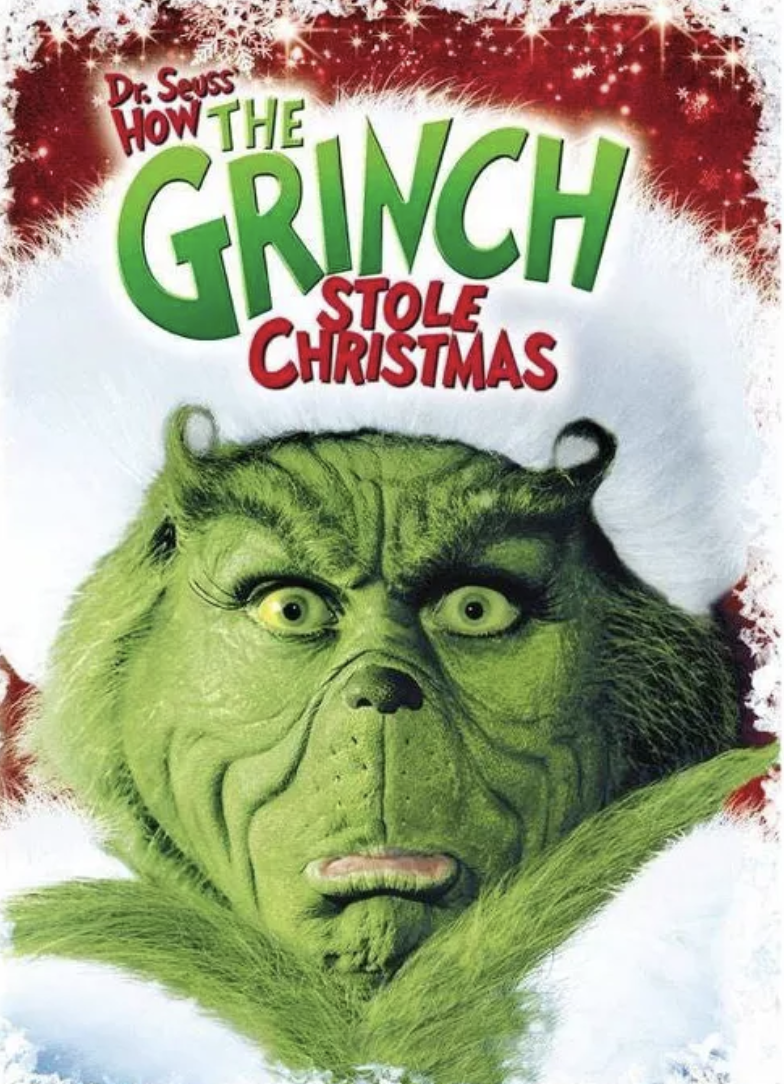 Today's featured film is How the Grinch Stole Christmas starring Jim Carrey. Inside a snowflake exists the magical land of Whoville, wherein live the Whos that love Christmas. Just outside of their beloved town lives the Grinch, a nasty creature that hates Christmas and plans to steal it from the Whos, which he equally abhors. Little Cindy Lou Who decides to befriend the Grinch.
Not sure where to watch? Here are a few ways to stream: Netflix, YouTube, and Amazon Prime.
Did you know?

Jim Carrey's Grinch suit is covered in yak hair, which was dyed green and sewn onto a spandex suit.

The scene where the Grinch is directing his dog, Max (Kelley), before stealing Christmas, is Jim Carrey making fun of producer and director Ron Howard, imitating his style of directing. Howard found the scene hilarious and decided to include it in this movie.

Jim Carrey's accent in The Grinch is based off Sean Connery.
In the original adaptation of the Grinch, his main dislike of Christmas is due to the loud noise and extreme gluttony. However, for this movie, an extensive backstory was created to explain why he hates Christmas.

Eddie Murphy, Tom Hanks, Jack Nicholson, and Tim Curry were considered to play The Grinch.

Due to the time-consuming nature of applying Jim Carrey's Grinch make-up, he arranged to have packages delivered to his dressing room instead of his actual house.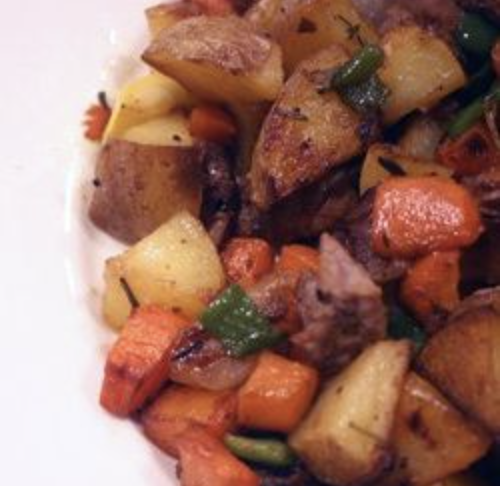 Who Hash
2 tablespoons olive oil
2 tablespoons butter
1 chopped onion
2 garlic cloves, minced
Cooked meat of your choice chopped into small pieces 
Diced potatoes (or sweet potatoes)
Diced vegetables
Salt, pepper, and other seasonings, such as thyme or rosemary
Chicken or vegetable stock (optional)
Cabbage or spinach (optional)
Eggs (optional)

Instructions:
Heat olive oil in a large nonstick skillet over medium heat. Add onion, peppers, and/or celery and cook and stir for 5-6 minutes before adding garlic. Cook until tender. Add butter, cooked potatoes, any leftover or other cooked vegetables, salt, pepper, and seasonings, and cook until potatoes are golden brown, stirring occasionally. Add cooked meat and heat through.
If you like, sauté some shredded cabbage or chopped spinach and serve your hash on a green bed. You might also try frying or poaching an egg and placing it on top of each hash serving.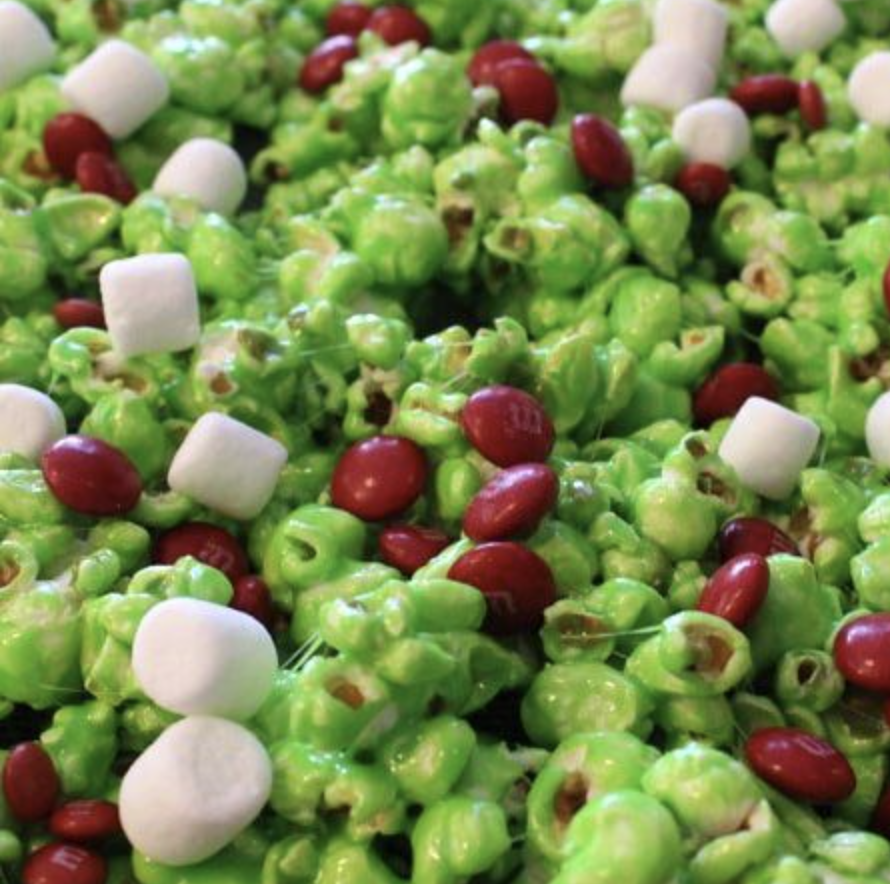 Grinch Popcorn
10 Cups of Popped Popcorn
Salt
3 tablespoons Butter (Sweet Cream Salted)
3 cups Mini Marshmallows
Yellow Food Coloring
Blue Food Coloring
1/2 Cup Mini Marshmallows
M&M Candies – Red

Instructions
Make popcorn.
Salt popcorn and set aside.
Melt butter in medium saucepan on medium heat.
Add mini marshmallows to pan and stir until melted.
Turn off heat.
Add yellow food coloring to the marshmallow mixture then add a small amount of blue food coloring to the marshmallow mixture to get the perfect shade of Grinch Green.
Coat popcorn with marshmallow mixture to taste.
Pour coated popcorn into a prepared cookie sheet.
Drizzle remaining marshmallow mixture over popcorn.
Add mini marshmallows and Red M&M's while popcorn is still warm.
Allow to cool and serve.
The Ultimate Grinch Christmas Movie Quiz
Think you know everything about How the Grinch Stole Christmas? Test your Grinch knowledge here